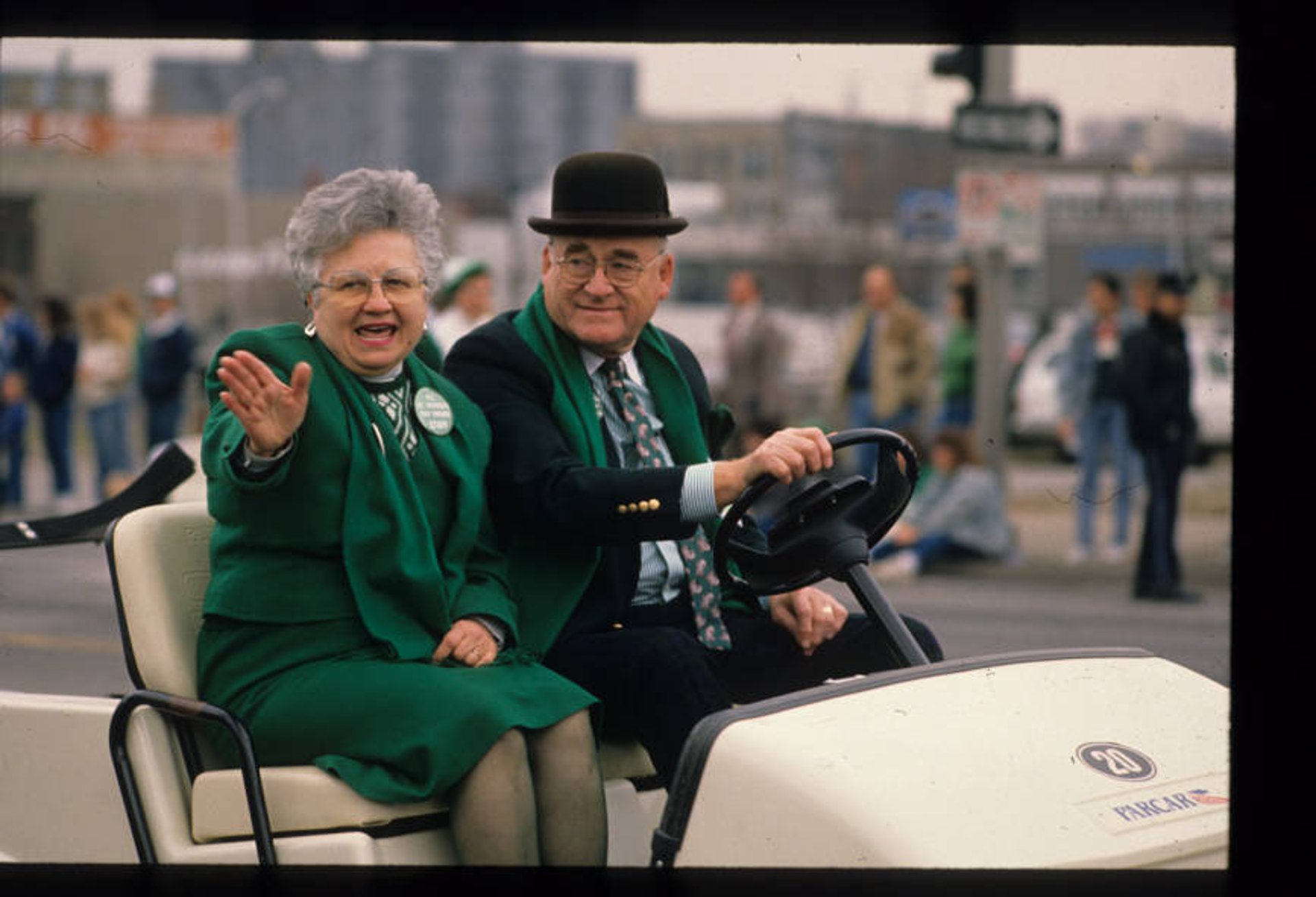 To Follow in Their Footsteps

The Kansas City St. Patrick's Day Parade, well into it's fourth decade, is a beneficiary of the timeless efforts of countless individuals who have devoted their time and efforts to this wonderful example of civic pride and history. Like any organization with such long and storied credentials, the Parade and its contemporary supporters owe a great deal to those who first established its beloved traditions.
Without them, there would be no Parade as we know it today.
Here, we remember and celebrate those who have passed on, whose contributions to the Parade are valued and cherished. In the true spirit of an Irish Wake, we celebrate their legacy. Thanks to them, the trail we walk today is much easier to follow.
Mr. Mike Murphy
Passed: March 9, 2011
Mike Murphy helped make St. Patrick's Day in Kansas City a special holiday. From a cheery little walk around the block of a downtown bar, the Parade turned into one of the largest one-day celebrations in the city.
Mike was proud of the Irish, and we were proud of him. He was a legendary broadcaster, a friendly man, and as Mike would always say of his friends, "he's a pal!" Mike will always be remembered as our pal. Thank you for all you did for us, and as the Irish blessing says, "May God hold you in the palm of his hand."
In 2005, as a "tip o'the hat" to the man who was so instrumental in founding and building this Parade, we created the Mike Murphy Honorary Irishperson of the Year award that honors people in Kansas City who have made a significant contribution to Kansas City.
Mr. Fred Wyrsch
Passed: January 6, 2014
Fred Wyrsch can best be remembered as the man who turned the Kansas City St. Patrick's Day Parade into one of the city's biggest events. After radio personality Mike Murphy started the Parade in 1973, Wyrsch decided to get an Irish group, the Kansas City chapter of the Ancient Order of Hibernians involved. Wyrsch's goal was to assure the parade kept its sense of Irish culture. Fred was also aware that it needed our Irish sense of humor. One of his favorite sayings was they decided to have a little St. Patrick's Day parade, "so you could invite 250,000 of your closest friends."
Fred was really the Godfather of the Parade. Mike Murphy, God rest his soul, got a lot of the credit, but it was Wyrsch and his pals who really made the Parade a big deal in Kansas City.
The Parade made him Grand Marshal in 1986, and his family has been honored time and again for their contributions to the Parade.
Mr. Pete McCluskey, Sr.
Passed: September 23rd, 2005
Pete Sr. loved the Parade, but more importantly he loved the parade committee. He considered all of the committee members part of his extended family. He looked forward to the planning meetings as much as the parade itself. Two of his favorite events other than the Parade were the kick-off luncheon and the Wolfe Tones concerts. He was usually up for buying a table at both events.
Pete Sr. was also one of the "office girls" when the Parade committee headquartered out of the Channel 41 offices. Pete, Tom Mahurin & Bill Rudolph dutifully processed parade application forms and passed them along to the right division heads. On Parade day, it was not uncommon to find Pete Sr. touring the Parade route on a golf cart, making sure no one stepped out of line.
One of his proudest moments was being named the Grand Marshal of the 1994 parade. Pete Sr. was very proud of his Irish heritage. His favorite toast was "To the First Irish Pope!"
Mr. Patrick "PJ" Cullinan
Passed: July 6th, 2008
PJ was born in Ennis, Co. Clare, Ireland and came to Kansas City in 1950. PJ was a driver for the KCATA/Metro for 36 years.
He loved being an American citizen and took great pride in his Irish heritage, and being one of the patriarchs to the Irish community in Kansas City, helping to keep alive the Irish culture, music & dance that he loved. He was involved in many Irish organizations and was the Grand Marshal of the Parade and Irishman of the Year in 1990.
His spirit lives on as the namesake of the annual Cullinan Family Spirit Award honor that is bestowed for generational commitments to the KC Irish Community.
Lt. Col. Tom F. Mahurin, USAF
Passed: October 16, 2002
For over 20 years, Tom graciously gave of himself to the St. Patrick's Day Parade and the committee. Tom, Pete McCluskey, Sr. and Bill Rudolph were the original parade "office girls". They answered phones, got the parade permits, processed entrant applications and rode golf cards on Parade day.
Tom was a sponsor of the first Rub O'The Green Golf Tournament, and along with the other "office girls", was a golfer extraordinaire for many years. Tom was proud of his work on the Mouse Derby and the Emerald Ball, and was honored by the Parade committee by being chosen Flag Bearer in 1999, and along with his wife Helen, named Grand Marshal for the 2000 Parade.
Mrs. Helen Mahurin
Passed: October 14,2020
Helen dedicated years of service to our parade, proudly organizing events and fundraisers, and serving as Grand Marshal of the parade in 2000 along with her husband Tom. Our annual Rub O'The Green golf tournament usually fell on or near Helen's birthday each year, and you would always find her on the course with a smile, making sure that everyone had a wonderful time.
Helen always had a smile for everyone she met, and usually a $2 bill as well. She would greet you with a hug, big smile and a twinkle in her eye – whether you had just met her or you had been a friend for years.
Her absolute love and dedication to the parade committee over the last few decades has left an indelible mark on our history, and we will always remember and honor her as our wonderful Irish Queen.
Mr. Bill Rudolph
Passed: October 8, 2011
Bill was one of the original "office girls" for the Parade with Tom Mahurin and Pete McCluskey, Sr. He devoted more than 25 years of his life to the Parade and much more to the Irish community in Kansas City.
Mr. John O'Neal
Passed: July 2, 2010
John enjoyed being active in the Kansas City community and many Irish American organizations. He was a former president of the Celtic Fringe and the Fr. Bernard Donnelly Division of the Ancient Order of Hibernians in Kansas. He also volunteered for the Kansas City St. Patrick's Day Parade and the KC Irish Festival.
For many years, John sang the National Anthem and the Irish National Anthem in English and Gaelic to kick off the annual Parade. He also served on the board of the Kansas City Irish Museum and in March 2010 they honored John with the Chieftan award in recognition for his hard work and dedication to the Irish community.
Mrs. Margie Browne
Passed: December 28, 2004
Margie Browne loved everything Irish. Her home was open to Irish immigrants spending a semester in Kansas City or just starting out in this new land. Margie's dinner table always had room for one more, and with an ear to list and compassion to give, Margie became Mother Marge to many.
Margie was eager to support the Parade since its inception in 1973. She participated in the early parades, attended luncheons and The Wolfe Tones concerts, helped with "The Blarney Stone" newsletter and greeted the parade committee as they enjoyed an Irish breakfast at Browne's. One of her proudest moments was being named Grand Marshal of the 2002 Parade.